South Sudan fights child marriage where girls sold for cows
AP, By DENG MACHO, 22 June 2022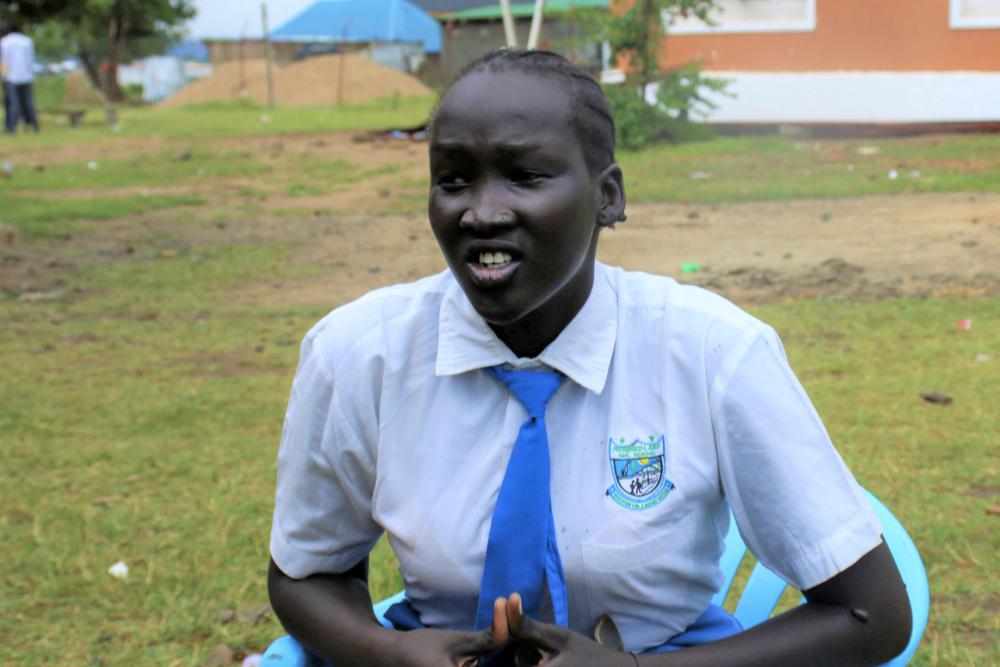 Nyanachiek Madit, 21, who successfully refused when her father told her at age 17 that she would be married off to a man about 50 years old because her family couldn't afford to send her to school, speaks to The Associated Press in Juba, South Sudan on Wednesday, June 8, 2022. Some young girls are auctioned off into marriage for cows in South Sudan – a practice that the government and international organizations are fighting to promote better health and educational opportunities. (AP Photo/Deng Machol)
JUBA, South Sudan (AP) — Some young girls are still auctioned off into marriage for cows in South Sudan — one of the social challenges that activists had hoped to highlight during Pope Francis' now-postponed visit.
The price of a daughter, determined in negotiations between her father and would-be husband, is typically 50 to 100 cows, each worth up to $1,000. A girl viewed as beautiful, fertile and of high social rank can bring as many as 200 cows. One girl in a well-publicized case a few years ago was auctioned off for 520 cows, plus cars.
"The younger the girl marries, the more the family gets cattle in return," said Jackline Nasiwa, executive director of the Center of Inclusive Governance, Peace and Justice in South Sudan's capital, Juba. "They sell their daughters so that they get something to survive."
Though South Sudanese law limits marriage to those age 18 and over, it's rarely enforced, particularly in rural areas.ADVERTISEMENThttps://858497ad530a9c78626650c70b89724d.safeframe.googlesyndication.com/safeframe/1-0-38/html/container.html
South Sudan's independence from Sudan in 2011 brought widespread hope for prosperity and peace for the country's 12 million people, but little of that has materialized.
The new country quickly plunged into five years of civil war that ended with a fragile peace deal in 2018, but deadly intercommunal violence continues, and most people remain trapped in poverty. Climate shocks like flooding, along with rising food prices caused by Russia's invasion of Ukraine, have deepened widespread hunger.